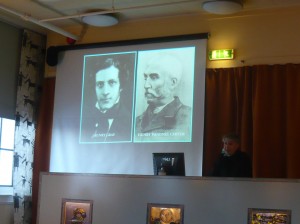 7. desember hadde forskergruppen «Litteratur og vitenskap» invitert Ruth Richardson til å holde gjesteforelesningen  «The Making of Gray's Anatomy and the Bombay-Bergen Leprosy Connection».
Ruth Richardson er forfatter av boken «The Making of Mr. Gray's Anatomy» (OUP 2008)
Gray's Anatomy ble først ugitt i 1858, og er en av de mest brukte medisinske bøkene,  nå aktuell i sin 40. utgave.
Teksten er skrevet av Henry Gray (1827 – 1861), men boken er kanskje like kjent for sine  illustrasjoner, som sin tekst, og disse ble laget av lege og illustratør Henry Vandyke Carter (1831 – 1897).
Med Gray's Anatomy fikk man store, detaljerte tegninger, mens datidens anatomiske bøker, som var tilgjengelig for studenter og leger, vanligvis var i lite format.
Gray døde like etter at en revidert 2. utgave ble publisert i 1860 (faksimileutgave på biblioteket), mens Carter virket som lege og forsker i Bombay i 30 år.
I 1873  kom Henry Carter til Bergen for å besøke Armauer Hansen, og for å se hvordan man i Norge tok tak i problemet med spredningen av lepra. Det samme året hadde Armauer Hansen påvist leprabasillen, og Carter fikk studere mikroorganismene.
Ruth Richardson tegnet et bilde Henry Carter som en særdeles lite egoistisk person og forsker, og ikke en typisk representant for kolonimakten i India. Han valgte å jobbe med de fattige syke, og var raus med krediteringene i skriftlige arbeider. Overbevist om lepraens smitteårsaker, snakket han i følge foreleseren for døve ører hele livet, pga av at alt for mange var «stuck in their mindsets».